Mountain Grandeur and Home
After two days in Yellowstone National Park, we headed south towards Colorado.  About two hours out of Yellowstone, we viewed the Grand Teton National Park.  It was an awesome sight.  The Grand Teton is nearly 14,000 feet high.  The nearby peaks are almost as high.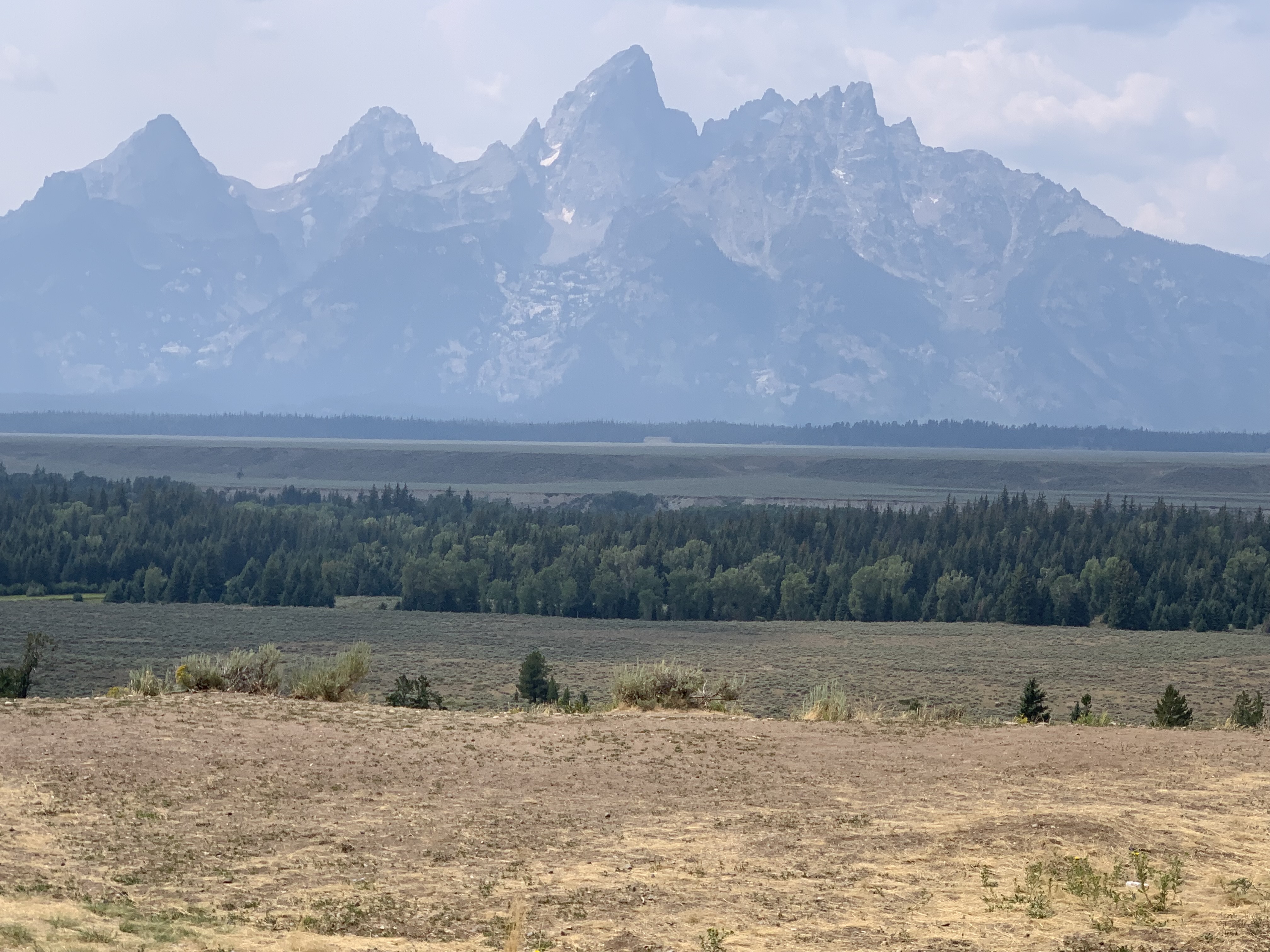 Smokey view of Grand Tetons in WY
Several years ago, our son and daughter-in-law summited the Grand Teton.  We have a picture of them at the top -- an amazing vista, and one we will continue to appreciate through them!

We were disappointed in our view because smoke from the west coast fires clouded the scene, but even so, the sight was spectacular!

Jackson, Wyoming
About a half-hour past the Tetons, we neared Jackson, or Jackson Hole, as it is sometimes called because it is located in Jackson Hole County, Wyoming.  The last few miles were terribly congested, and we averaged only about ten miles per hour, which assured us the town was not a place we would like to live.

We found a motel that looked clean and neat and stopped to ask about the nightly rate.  The cost of $279 per night was a jolt to us, so we kept looking.  Motels that had vacancies cost $500 to $1,000 per night. Suddenly, $279 a night looked much better, though it was certainly well beyond our budget.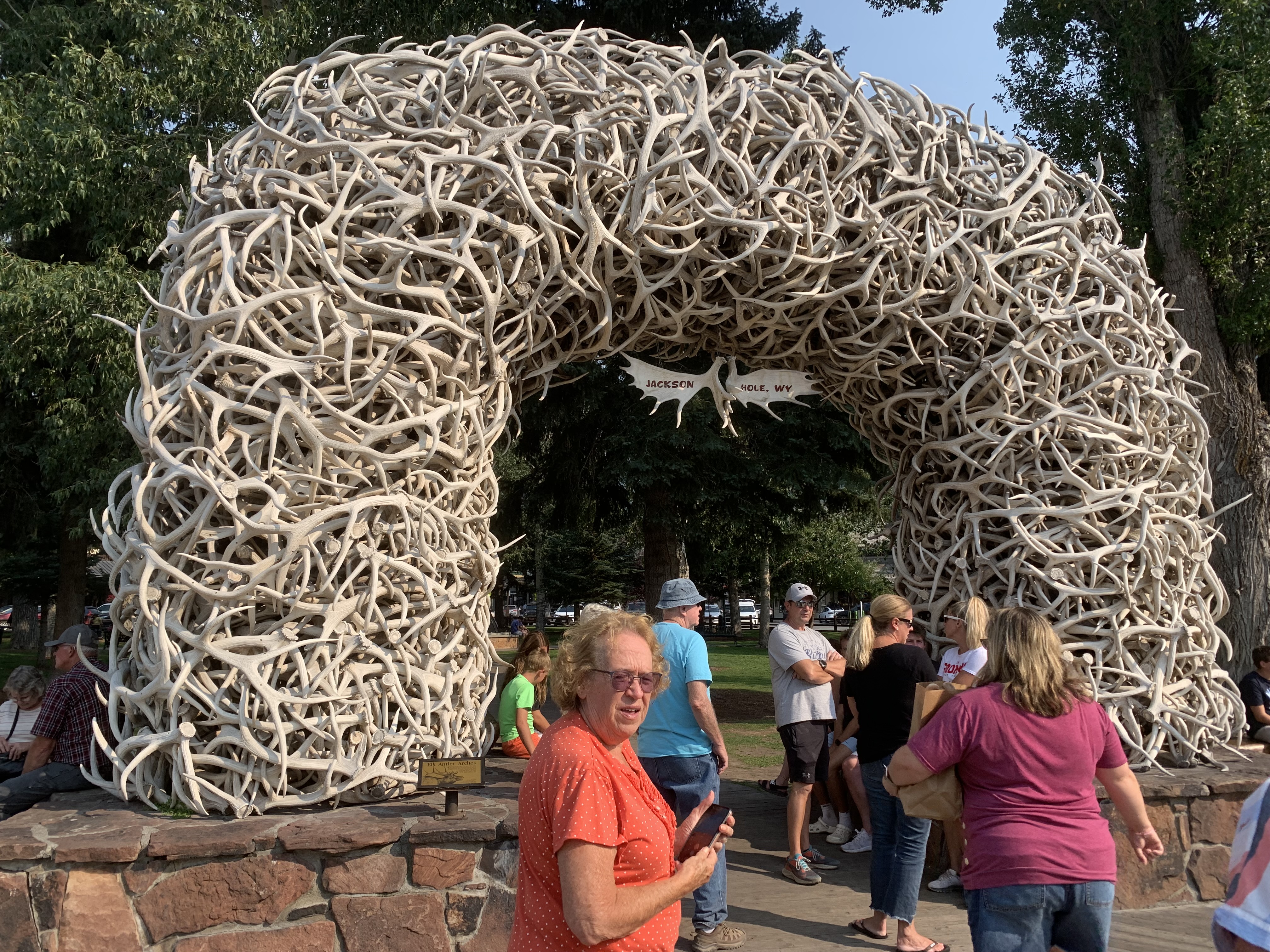 Antler Arch in Jackson, WY
It was still late afternoon, so we decided to walk around the town. A sight I had not seen before was in the town square.  At each corner of the square, we saw many antlers arranged to make an arch entrance to the park. Unusual, but probably representative of the local hunting activity, and they have become a signature of Jackson.

The next afternoon, we continued south to Colorado.  Out in the middle of nowhere, while still in Wyoming, just off the interstate, we found a small motel for only $72, including tax --a big relief and certainly easier on our budget!  Additionally, the lady at the front desk was a real card and a welcome difference from our earlier experiences with front-desk people.
Colorado
Continuing our journey east on I-80, we drove through Rawlins to Laramie, Wyoming, and then headed south to Ft. Collins and Loveland, Colorado, arriving Friday evening.  We stayed with Bryon and Cheri, long time friends of Dianne.  I immediately began to understand why.  Their home has a beautiful view of the Rocky Mountains.  The next morning, Sabbath, we went to church and visited together in the afternoon

Sunday, we drove through Big Thompson Canyon on our way to Estes Park and Rocky Mountain National Park.  Several decades ago, I used to live in Big Thompson Canyon. I remember putting my feet in the rapidly flowing river and feeling the numbing effect of the cold water.  I would like to experience that again, but our time is now limited.  There is much more to see and do

Estes Park, Colorado
Estes Park is another beautiful tourist town.  We enjoyed walking the streets and availing ourselves of some of the local offerings such as ice cream.  We felt it was important to support the local economies, especially when a local attraction includes ice cream!

Dianne recalls living near Estes as a child. Saltwater taffy then, as now, can be seen being stretched by rotating machines in merchant's windows. She says that in her heydays, herds of elk would wander through town at their leisure.

Rocky Mountain National Park
As the day waxed older, we drove to Rocky Mountain National Park.  The shadows were lengthening, but the scenery was still breathtaking.  We happened upon a stately elk near the road.  He stood so still, we weren't sure he was alive until he finally moved his head.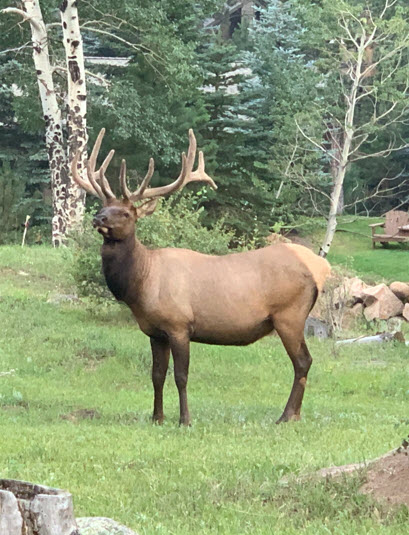 Elk in Estes Park, CO
On Tuesday we left Loveland, Colorado for Dodge City, Kansas.  We took the scenic route  -- in Kansas, that means traveling off the Interstate Highway.  
Ft. Dodge, Kansas
In1865, Fort Dodge was established  near the current location of Dodge City, as it became known.  "It became a rowdy town famous for its saloons, outlaws, and Boot Hill Cemetery.  Bat Masterson, and Wyatt Earp earned their fame as lawmen during this time."
Buffalo Coat in a museum in Dodge City, KS
It was a grand excursion.  Spectacular scenery, to be sure, but, by far the very best part was meeting with and enjoying the company of our long time friends.  That's something special that seniors can relish more than anyone else.  We have had more time to nourish and cherish those relationships with our friends! 
Please share your thoughts and any response you may have in the form below.

Return to SeniorHealthyLifestyles.com