Seniors Travel
One of the benefits of finally becoming a senior is that retirement often offers the ability and flexibility to travel.  We have greatly enjoyed that particular benefit.

I've always thought the point of traveling was to reach a destination.  My wife, Dianne, has taken exception to that position and insists that traveling offers additional benefits that include enjoying the trip.  Our recent experiences tend to add authority to her position and are encouraging me to gain increasing sympathy for her way of thinking.

The Trip
Several weeks ago, we left our home in Oklahoma to attend a celebration in Phoenix, Arizona, of the 50th anniversary of my older brother's marriage,  Next, we visited friends, in California, Oregon, and Washington.  Our plan included returning home through Yellowstone National Park, the oldest national park in the world.

As we continued on our westward journey, we noticed a definite increase in smoke.  The sky turned from blue to brown, and the vistas became less clear as the smoke in the atmosphere increased.  We decided to get off the interstate and take the roads less traveled.

Some friends had recommended we visit a small town in New Mexico called Pie Town.  The name suggested it might offer tangible benefits, and since it was on our new route of Highway 60, we decided to give it a try.  Crossing the state line into New Mexico from the east side, we looked for and found the map location of Pie Town.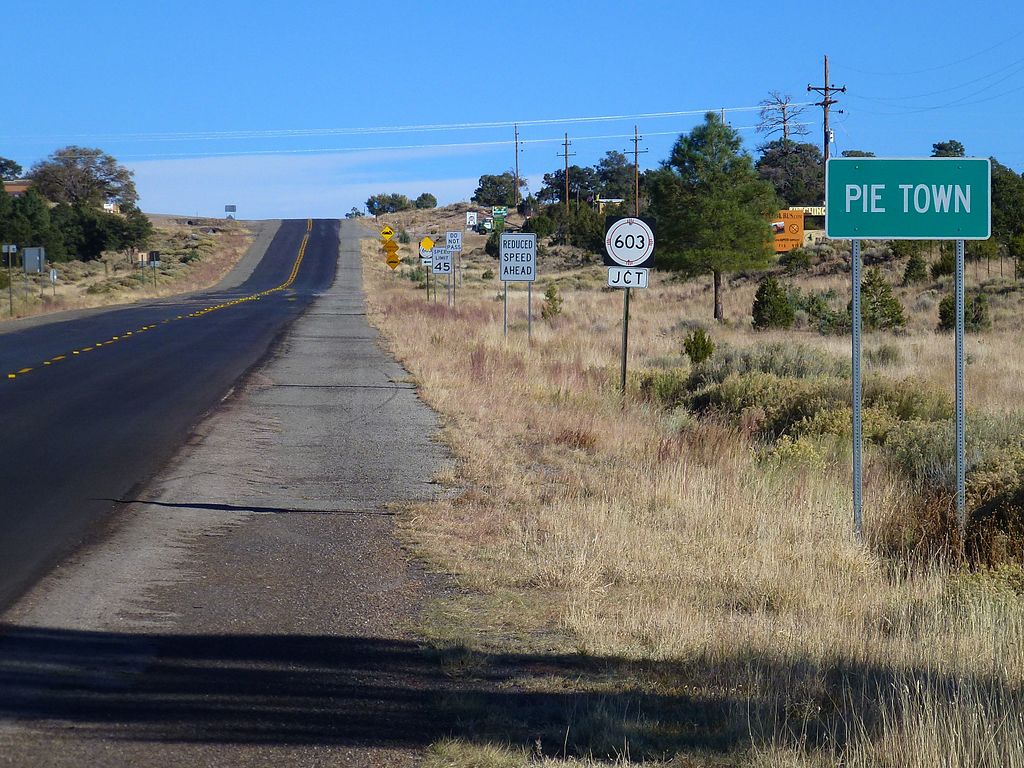 Approaching Pie Town from the west in New Mexico.
The Discovery
As we entered the small town, we could immediately see the other side of the town about a hundred yards beyond.  The most noticeable sight we viewed on the near side of the town was a large collection of vehicles parked in front of a rather large one-story building on the right side of the road.  Certainly, it was nothing fancy to see, but we did note that there seemed to be a bunch of activity there.

The time of day was about 2:30 in the afternoon, yet the place seemed packed with people.  Our curiosity was peaked so we pulled into the lot along the road and walked inside.  There were several people in line to order, so we looked around to see what items were being offered on the menu.

Pie Town in mid-afternoon.
The main items were fresh-baked pies, in about a dozen different varieties.  We finally decided on the pie we wanted and ordered 2 half-pies and 2 half-sandwiches.  They had already run out of pies and were currently baking pies as orders were received.

The Reward
Dianne and I then went to a covered breezeway to await the delivery of our order.  The chairs were seasonal, that is they were blanket-covered bales of hay.  Most of the seats were already filled with people consuming their food or waiting for it to arrive.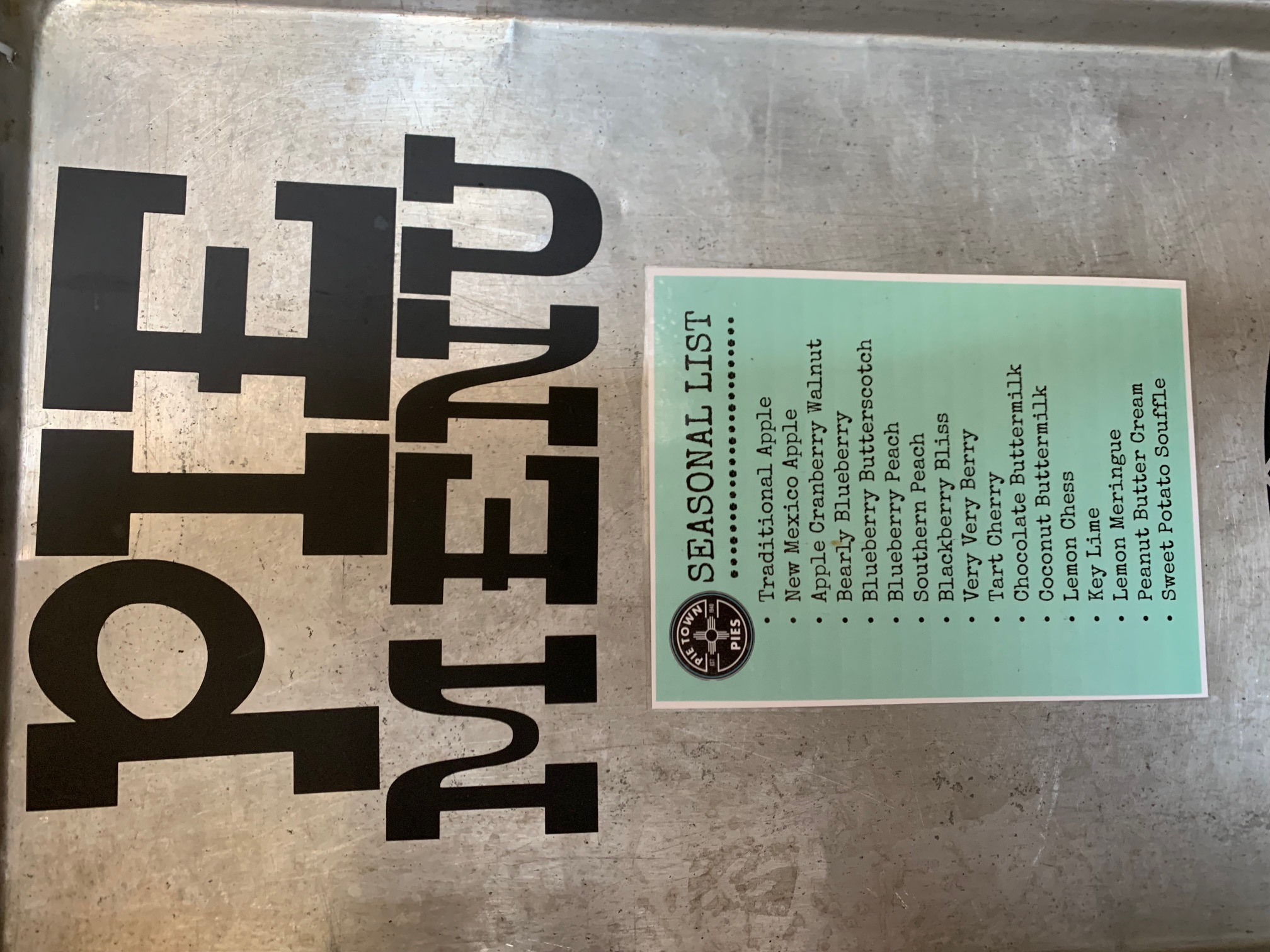 A good selection of pies!
Our patience was rewarded.  The 2 half-pies and half-sandwiches finally arrived alamode!  It was worth the wait.  We asked one of the all-lady staff if they were always this busy.  She assured us, in a very tired-sounding voice, that they were indeed always very busy.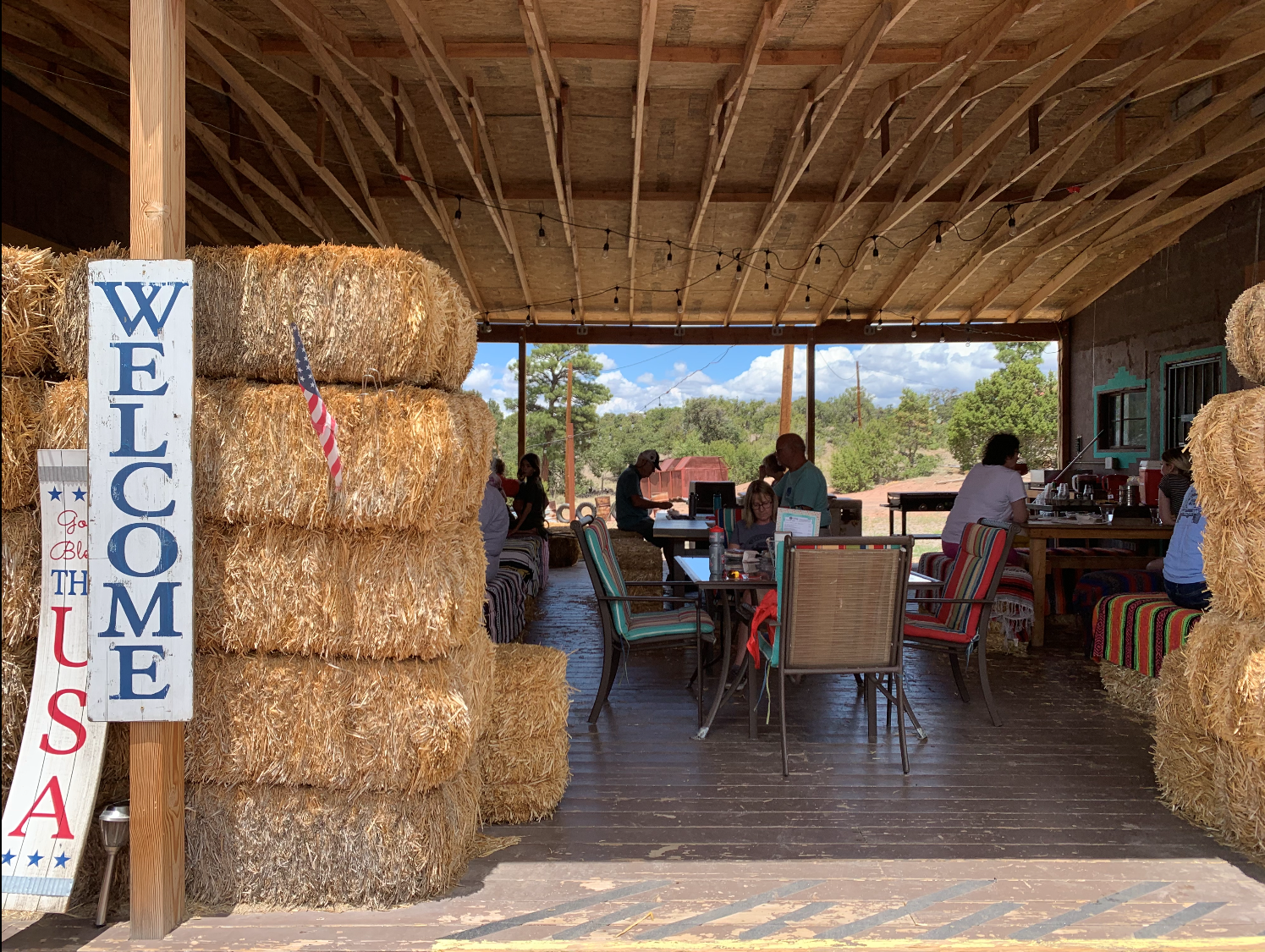 Fancy décor at Pie Town restaurant in New Mexico.
The thing that really interests me is how this place, Pie Town, located in the middle of nowhere, could attract so many customers and be so busy in the middle of the afternoon.  Finding this little out-of-the-way place was like finding hidden treasure--there all the time, but not where most folks looked.

This delightful experience reminded me that there is always something new, interesting, and rewarding if we just take the time to look for it.  Thankfully, as our workdays turn into more leisure chores, I'm hoping my wife and I can take more time to search for the small pleasures that are out there just waiting for our discovery. Should you come across something unexpected that brings you joy, take an extra moment to enjoy it today.  And perhaps, just perhaps, we can share those things with each other and bring smiles to others as well as ourselves.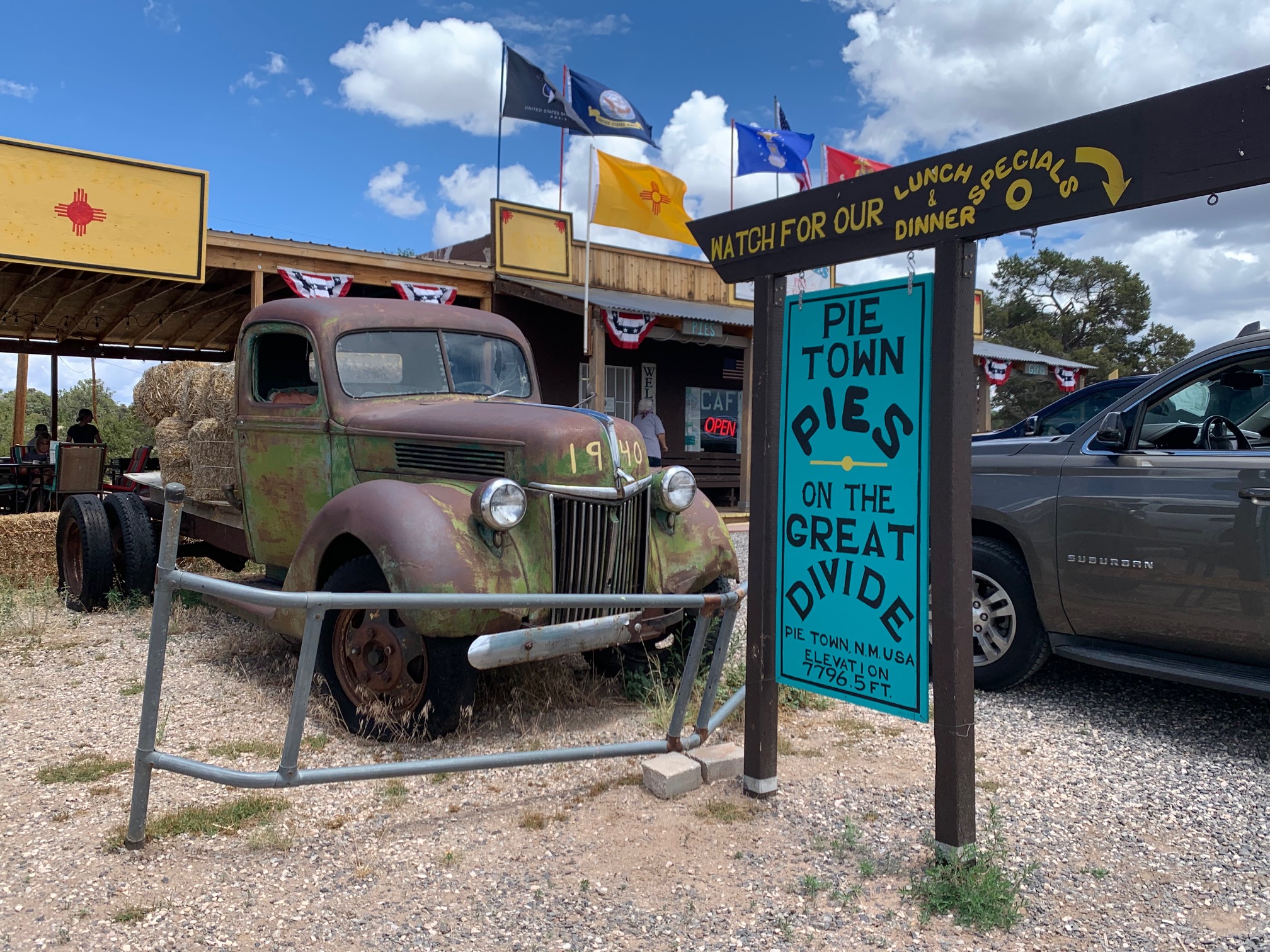 I don't think the truck was functional
Return to SeniorHealthyLifestyles.com
Please share your thoughts and any response you may have in the form below.

Return to SeniorHealthyLifestyles.com