Senior Health Concerns
The CDC (Centers for Disease Control and Prevention) says that 41% of people who are age 65 and above say they are in good or excellent health.  This means more than half of us (59%) are experiencing less than optimal health. 

Today, the average life expectancy is on the rise in the United States, so many of us may be celebrating birthdays beyond the age of 80.  Given that statistic, it seems a good idea to enjoy the best health possible in our remaining years.  Let's face it, except for the second coming of Jesus, none of us are getting out of this alive

Planning for our healthy future is just as important as planning for our financial future, although a viable financial future helps us care for our health.  Many times, seniors face health concerns that can affect their overall quality of life.  When we learn about those potential health concerns, we can make adjustments to our lifestyle, which can allow us to age as healthfully as possible.

We'll spend the next several posts looking at the more common health concerns for seniors.  Our family history, lifestyle, and age play a major role in the risk of some medical conditions.  Nevertheless,  many concerns we face as seniors can be prevented or the progression slowed by making smart, healthy choices and regular visits to our healthcare providers for regular screening.

The first health issue that concerns many seniors is the possible loss of our mental clarity.  This we will call

1. Cognitive decline.  Experiencing a degree of memory loss as we get older is common and accepted.  Alzheimer's is not.  Alzheimer's is a progressive disease that destroys memory and other important mental functions, but this should not be confused with the normal aging process which carries slips in our memory function.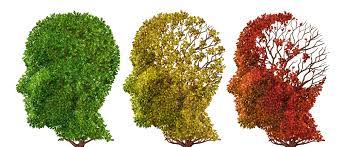 Things like forgetting where we put our keys or our glasses, or forgetting to close the washer lid when doing laundry.  It is normal to forget things once in a while, but when memory evades us for long periods of time, or we cannot remember things after being prompted, this is a sign of something more concerning than just aging.

According to the National Institute of Health, damage to the brain can begin a decade or more before memory and other mental problems begin to appear.  During this preclinical time period, people appear to be without symptoms, but toxic changes are occurring in the brain.  The Late-onset of Alzheimer's begins in the mid-'60s while early-onset begins in the '30s.  Feeling better?  Neither am I

Some say the brain is like a muscle: use it or lose it.  If that's the case, any brain activity that requires us to use our brain could be helpful to prevent or slow cognitive decline.  I have viewed How Alzeheimer's changes the brain. and have found it to be helpful.

There are many activities that psychologists and physicians recommend to help keep our memories sharp and active.  Some of us continue learning new things even in later years.  Some of us like to challenge our minds with "brain games", those games suggested to us that stretch our minds as we play.

A popular free game to keep your brain active for many is Sudoku. To try it here for free, with several additional games such as Solitare and others, go here:  Sudoku.

Another field getting lots of attention is supplements.  Supplements of vitamins and minerals may forestall the advance of mental decline. The available options vary widely in terms of quality and price.  A supplement that is capable of enhancing memory, concentration, or other cognitive functions and of preventing cognitive decline is called a nootropic.  A source that can simplify wading through the possible options of supplement choices is Review Scout.

Would you like to learn how to live beyond life's pain and suffering?  Check out various topics in these free Bible study guides.

Next week, more on additional senior health concerns.

Return to SeniorHealthyLifestyles.com
Please feel free to jump in with...whatever!
Do you have a great story about this? Share it!
Please share your thoughts and any response you may have in the form below.

Return to SeniorHealthyLifestyles.com