Best Retirement Communities and Living
Accommodations for Seniors

What are the best retirement communities or living accomodations for you?  We will try to help you answer that question considering various preferences you might have.
For example, we'll look at things like available medical care, cost of living, taxes, local crime rate, and opportunities to stay active by volunteering, and outdoor exercising. 
Do you want or need to work after retirement?  Are you looking for a warm climate or one with brisk winters?  Do you prefer urban or rural areas? 
Any More Options?

Possibly you are considering living in a retirement community that is especially built to meet the needs and desires of seniors.  Many of these kinds of communities provide a wide variety of housing possibilities ranging from individual homes to condos to independent living in a common building to differing levels of assisted living. 
Then again, maybe being near family and or friends is your most important consideration.  If this is the case then the information that follows will be of little consequence to you because you simply want to be close to them.   That's a good thing.
What if you wish to work after retirement?   If you are self-employed or have your own consulting business in place, you're good to go. 
If you are looking for a specific town, the following table offers some suggestions.  These are listed here because of things like lower cost of living (compared to the national average), favorable taxation for seniors, plenty of opportunities for volunteering and recreation, and lower crime rates.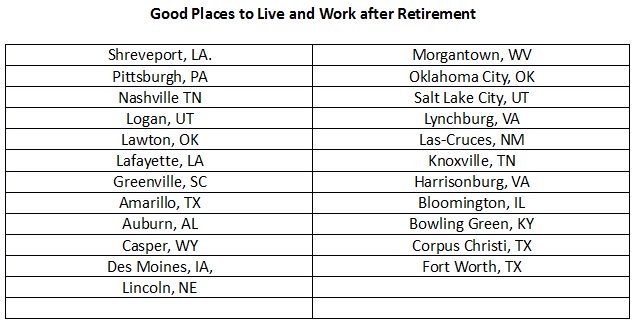 Most people retire in the state where they currently live.  Not a big surprise.  Below is a list of the most popular retirement states, in the order of popularity.

Florida

North Carolina

Tennessee

South Carolina

California

Arizona

Texas

Colorado

Oregon

Delaware

Washington

Georgia

New Mexico

Virginia

Kentucky
Maybe I Can Help.

We should probably remember that just because the above states are popular doesn't mean they are necessarily the best choice for you.
Need help finding a retirement community that is a perfect fit for you?  Maybe you would like more information on a particular retirement location?  I'd be happy to supply it for you. 
I have divided the US into four regions: The North-East, The Mid-West, The South, and The West.  I will include multiple recommendations from each region and give you the contact information to each community. 
Please note this will take some time to complete so feel free to check back often as I will be continually adding more retirement community recommendations.

This is a good place to start your perusal. 

Best Retirement Communities in The South

The southern states are rich in history and generally enjoy more mild winters.  One of the best retirement communities is Olde Town Grayson in Georgia.

Another popular destination is The Coves, in North Carolina.
Holiday Island, in northwest Arkansas offers many amenities.
Check out Saluda River Club in South Carolina.
Don't miss Cypress Lakes in Florida.

The West

Sun City Mesquite in Nevada is a favorite of many retirees.
---
Related Articles:

---
Return from Best Retirement Communities to the Home Page.
Return to the Top of the Best Retirement Communities.

Please share your thoughts and any response you may have in the form below.

Return to SeniorHealthyLifestyles.com