About Our Senior Farm
Dianne and I were married in 2019.  Shortly before we married, Dianne was touring Europe assisting her sister who was on a speaking tour.  I was living in southern Oregon.  We were introduced by a dear friend from college days and  communicated with each other via the WhatsApp (a free app that requires only internet connections on both ends).
One of the first issues I raised in our early conversations was regarding things I could do on the farm to stay active.  Dianne assured me that would be no problem.  That has certainly proved to be true, and I will no doubt spend the rest of my life in a vain effort to live down that silly question.  
What follows are pictures of various animals and objects (in no particular order) found on our farm.
Meet Shiloh.  She's been here for about 4 years, and in this picture, she is "up close and personal".   Why is she so close to the camera?  Is it because of my magnetic personality?  No, because I have no such personality.  Might it be because of the treats I am giving her?  Good call!  You nailed it!  When the horses hear my whistle, they soon learn the benefits that await them at the fence!
This is the lane near our home.  The sheep pen is on the right, and the horse pasture is on the left.  The trees are about 10 years old and were planted when Dianne moved to the country.  You may be thinking they represent a lot of money, but they do not.  They sprouted at the BnB Dianne and Gary used to own and were transplanted here on the farm.  Total cost of the trees?  Zip.  Zero.  Zilch.  Nada.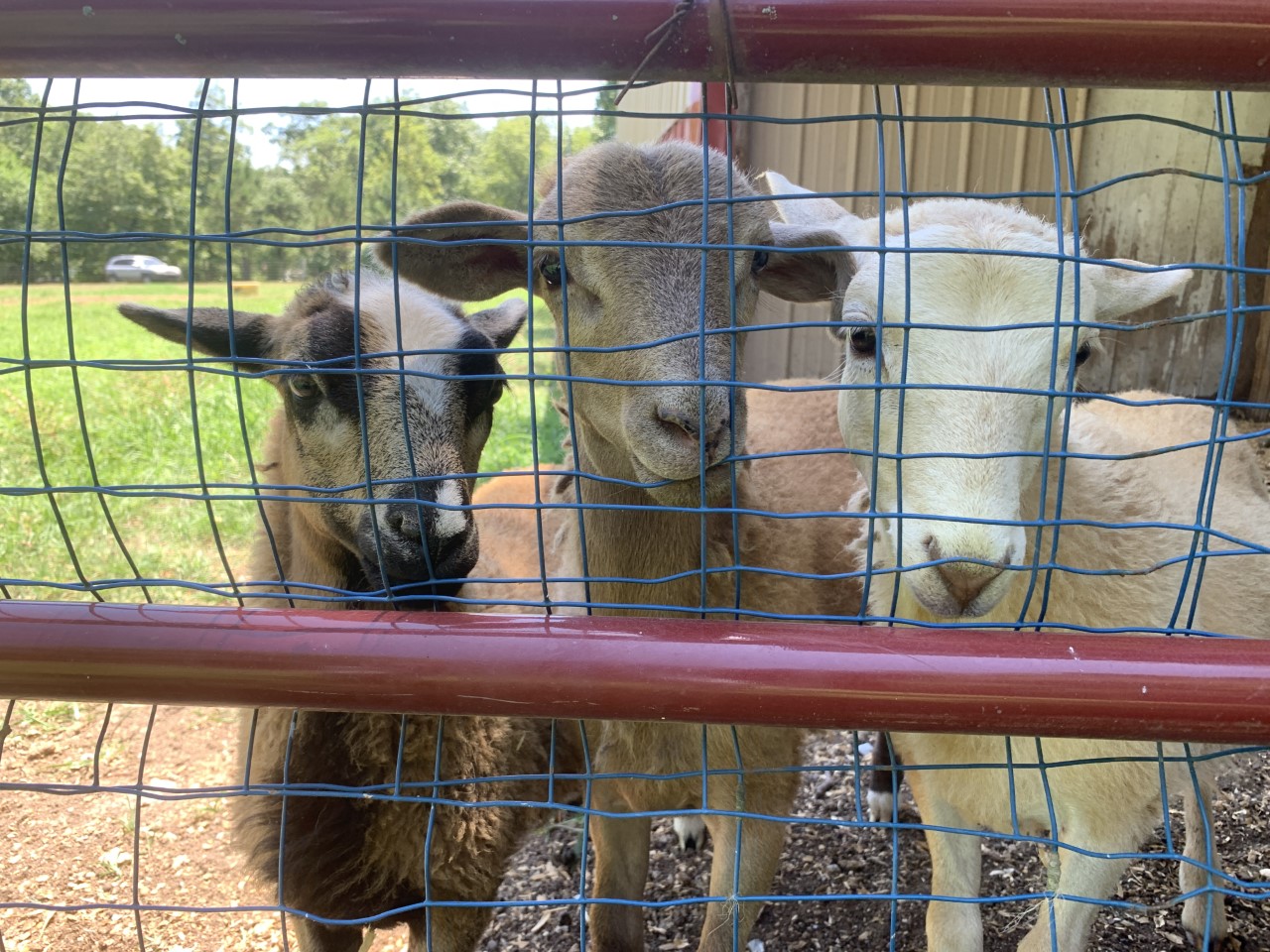 Meet Dixi, Barney, and Buffie.  Dixi is the female.  We got these cute lambs last April from a neighbor who raises sheep.  Sometimes when a mother gives birth, she walks away from her lambs and will refuse to care for them.  When that happens, the newborns simply die and then may be eaten by predators.  Not so with these three.  Trust me, they are very much alive.
We refer to these troopers as the Three Musketeers.  They are usually pretty close together.   We bottle fed them for the first 8 weeks for 4 times a day, then gradually dropped  to 3 times, 2 times, then once a day before stopping with the bottle.  We have provided feed pellets for a few weeks and now they have taught themselves to graze on grass.  Happily, they learned that on their own.  No instruction required.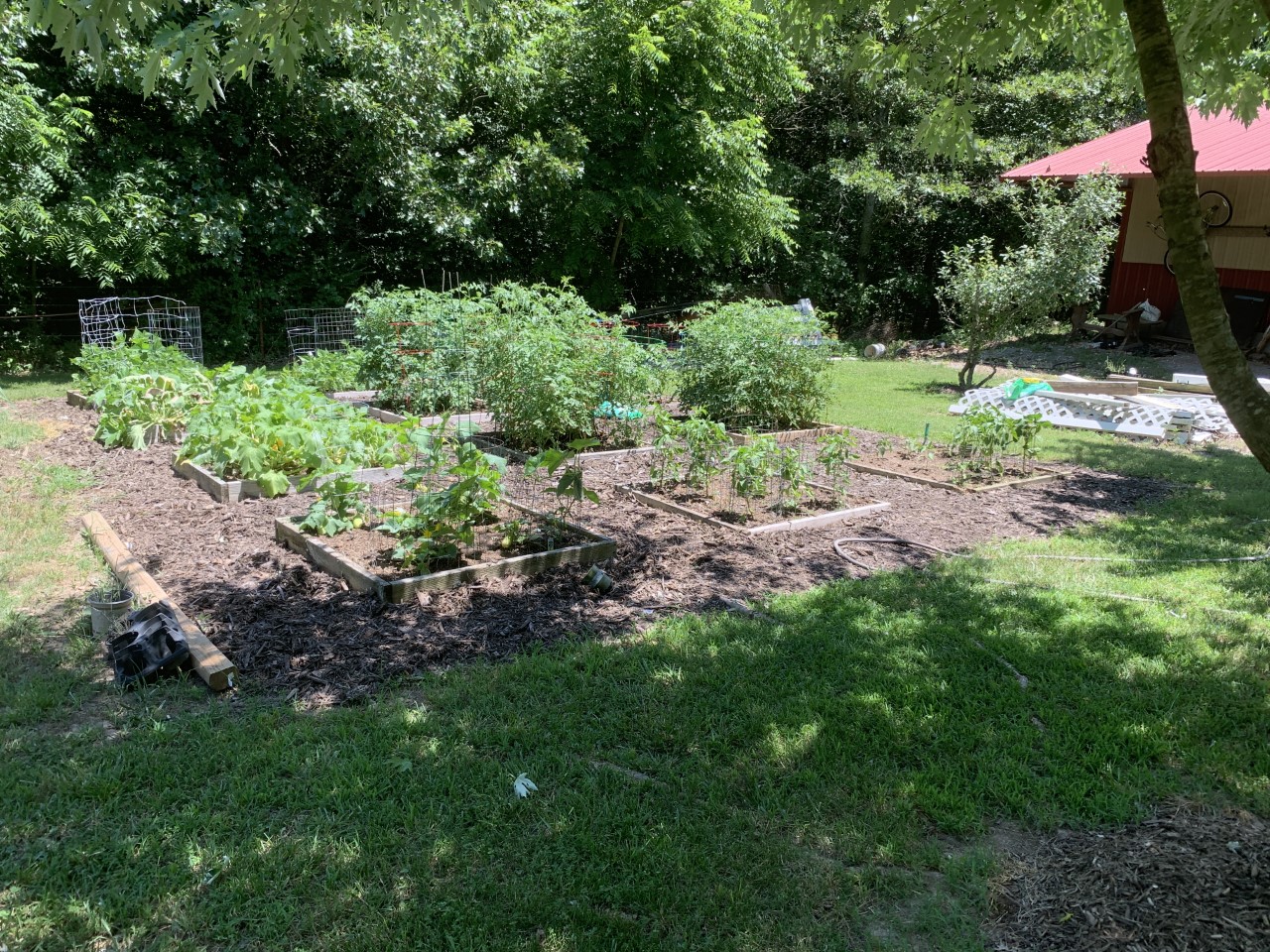 This is our garden.  We have already harvested pepper, lettuce, zucchini, and squash.  The tomatoes are also looking good; still green but growing well and will soon turn red.    Summer was late arriving but is now here.
This is the structure that keeps up warm, cool, and dry. We call it home.  It has a daylight basement, 3 bedrooms, 3 baths and 2 fireplaces.  
On the left is the garage, storeroom, bathroom, and junk room.  If we can't decide where to put something, it goes here.  On the right is our home away from home.  Apparently, it's nice to get away from home even when you live in the country.  
This is the trail down to our daughter and son-in-law's home.  Below is also a spring-fed creek and another pasture beyond.  They have an above-ground pool they share with us.  Good news indeed on hot summer days!
Maybe you now have a better idea of some activities that are available to help keep me occupied.  I know I do!  There's lawns to be mowed, flowers to water, garden to weed, animals to feed and water, maintenance on buildings and roads and a host of "honey-do" things every week. I've truly learned that a retired senior living on a farm never runs out of things to do!
Please share your thoughts and any response you may have in the form below.

Return to SeniorHealthyLifestyles.com

Your second block of text...