Senior Travel Destinations
Sedona, AZ
The Pink Jeep Tours in Sedona are perfect for those who want to add a little adventure to their vacations!  These easily spotted bright vehicles take their passengers out into the Sedona outback to see some of the city's famous red rock formations up close and to venture down into some of the steep trails for a heart-racing experience. 

The Broken Arrow tour takes people on an all-jeep drive for some rough and rowdy fun, while the Wrangler Roundup splits the tour time between a jeep ride and a horseback ride.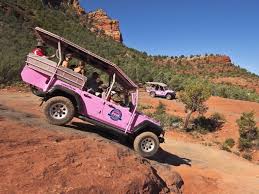 The hike up to Cathedral Rock is more of a leisure one than a challenging one, as it can be done by people of all fitness levels in just about an hour.  The path goes up some red dirt trails and large rocks and gives a view of the Sedona surroundings that is to die for. Cathedral Rock is one of the area's most recognized rock formations and is worth every bit of effort that it takes to see and climb it.  Be sure to photograph the whole way up, as the sights only get better with height!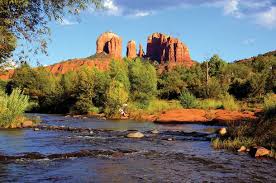 Oak Creek Canyon is one of the state's most popular canyons aside from the world-famous Grand Canyon.  One of the best ways to see it in all its beauty is to take the drive from Sedona to Flagstaff, or vice-versa, and stop along the way to do some hiking, have a picnic, or even a day or two of camping.   The best times of year to go are in the spring and the fall, as those months are more comfortable for doing outdoor things in Arizona.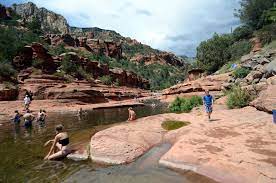 From the Devil's Bridge parking area, a round trip hike out to the bridge itself is only about two miles and doesn't require a lot of strenuous walking. This is one of the best hikes that you can do in the Sedona area, as the formation is unlike anything else you'll see!  Once you get on the bridge it can get pretty steep, but the views are remarkable and completely breathtaking.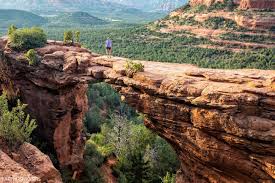 For tourists who enjoy a nice afternoon stroll down a quaint and cultured street, Main Street in the downtown Sedona area is the perfect place to do so.  There are lots of different gift shops and art galleries to look at, as well as restaurants for both fine and casual dining.  It's a fun place to stretch your legs while doing a little shopping, and the background scenery of the famous red rocks makes it a very peaceful experience.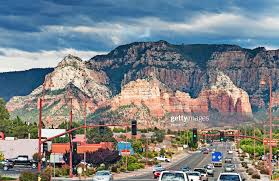 Due to the fact that Sedona has virtually no light at night, no pollution, and is based at a higher altitude, it makes it dark and a perfect location for stargazing.  

One of the most popular activities for families to do in the red rock city is to take an astronomy tour with the Sedona Stargazing company. These sky experts will guide you through an evening of educational fun while getting to use a telescope and admire some of the most beautiful star sights that you will see in your lifetime. The organization has been featured in a number of national media pieces by newspapers such as The Wall Street Journal and National Geographic.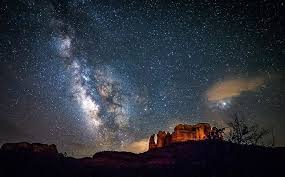 If you're walking around on the main street, you might see these big red trolleys drive by.   These are fun tours that only take a couple of hours and riders get to learn all about Sedona and the city's history, as well as how the region has changed over the years.  The drivers are typically long-time locals and offer a lot of extra tidbit information that you might not hear anywhere else!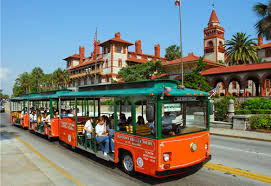 Slide Rock Park is more than just a place to sightsee, but it's an incredible experience where people can pick apples, see historic buildings, and go down the natural rock water slide into the water for a dip!  It costs money to get in per car, but nearly everyone who decides to go in says it's well worth it.  The best time of year to go is during the summer for swimming, but the spring and fall are very nice too.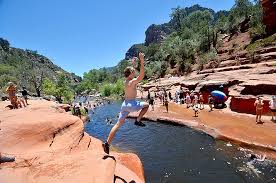 One of the most unforgettable things you can do in Sedona is to soar up into the skies above in a hot air balloon early in the morning, just as the sun begins to rise over the fiery crimson towers lining the eastern horizon.  Fly with the eagles, watching the sunrise during the ascent and then gaze down over at the stunning Red Rock Country. 

There are two hot air balloon companies in Sedona – Northern Light is the oldest, here for nearly a half-century, and its experience ends with a much raved-about light champagne picnic breakfast.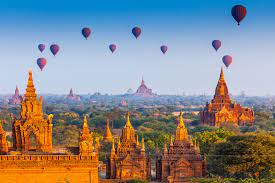 Another thrilling option for exploring the iconic red rock formations is to take a helicopter tour.  There are multiple outfitters and options for this flight-seeing experience, many of which will bring you on a 35-minute ride to take in the spectacular aerial views of the cliffs and ridges in the Sonoran Desert landscape. You'll fly above landmarks like Bell Rock, Cathedral Rock, the Three Nuns, Snoopy Rock and Steamboat Rock while watching for wildlife like deer, elk and javelinas that inhabit the desert terrain. 

 Heading back to Sedona, you'll also get to glimpse Secret Canyon and the remarkable cliff-side dwellings of the Sinagua people that were built high up on an inaccessible cliff. A Viator tour includes pickup and drop-off at your Sedona hotel.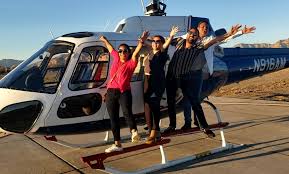 If you've  been infected by the travel bug, Sedona, AZ is a great place to go to find a quick cure.  
Please share your thoughts and any response you may have in the form below.

Return to SeniorHealthyLifestyles.com